Are you tired of the complex and time-consuming process of investing in mutual funds? Look no further, as I present to you my in-depth review of the Kuvera app, the ultimate solution for hassle-free and direct mutual fund investments. In this blog post, I will explore the features, benefits, and user experience of the Kuvera app, guiding you towards making informed decisions and taking full control of your investment journey.
Join me as we delve into the world of Kuvera and discover why it is considered the best app for direct mutual fund investment.
Which app is best for direct mutual fund investment in India?
Experts have identified the top 5 apps in India for direct mutual fund investment, including Groww, ET Money, Paytm Money, Zerodha Coin, and Kuvera. Each of these apps offers distinct features and benefits, making it crucial to conduct thorough research and select the one that aligns with your investment requirements.
After personally exploring multiple apps such as moneyfront, Paytm, ET Money, Grow, and Kuvera, as well as utilizing online portals and traditional paperwork from various mutual fund houses, I have personally chosen Kuvera as my preferred app.
However, the ultimate decision rests with you, as you should opt for the platform that best suits your needs.
---
So What is Kuvera?
n summary, Kuvera is an SEBI registered investment adviser operated by Arevuk Advisory Services Pvt Ltd (tradename: Kuvera). The platform has established partnerships with nearly all mutual fund houses, granting users the ability to invest in any mutual fund offered in India through a single app. Kuvera offers both a website version and a mobile app version, ensuring that all features are accessible across both platforms.
---
Is Kuvera Free?
Mostly yes. I am now using Kuvera Mutual Fund App for more than one and half year now. All the normal features of investment, SIP, reports, portfolio are free at least till now.
They do offer features like Tradesmart and Tax Harvesting with added fees but those are optional and you can live without them for normal usage. More on these later.
Kuvera also rewards investors. There are various reward actions like investing Rs 5000/-, creating goals, importing your portfolio, add SIPs etc. You can use these coins in exchange to activate paid features like say Tax Harvesting.
What is catch here? 1 coin seems to be equivalent to Rs. 1/- but we can not redeem it as cash. We can only use it to activate any of the paid features.
---
Important features in Kuvera Mutual Fund App
First and foremost, you can do all basic tasks of lumpsum investment, SIP (Systematic Investment Plan), redemption, STP (Systematic Transfer Plan), SWP (Systematic Withdrawal plan), adding bank accounts from this app. No cost or no indirect fees. All absolutely free.
But just basic investing in Mutual fund is small part. Let us see what other features Kuvera has that separates it from competition.
Some of Kuvera's useful features are below.
Goal based investment – Suggestion of lumpsum / SIP based on goals and risk profile
Family account – Manage investment of family members in single log in
Managed account – Manage client investments. Useful for fee based advisors.
Tax Harvesting : One can save upto 10,000 per financial year by selling and buying same fund.
Multiple bank accounts
Stocks import – View of stocks bought from other brokers to get better picture of portfolio.
SIP on weekly basis – Yes. You can to SIP/SWP/STP even every week
EPF Import – Can connect to EPF site to get balance details for better portfolio view.
Investing in FDs – Most of good corporate FDs can also be purchased from this app.
SaveSmart – Invest in Liquid Mutual Funds and redeem money instantaneously.
Easy Loan against your Mutual Funds
After regular use, I feel I can give them **** (4 star) for all the features like Tradesmart, Savesmart, weekly SIP, family account and managed account.
---
Registration / Sign up with Kuvera Mutual Fund Platform
As with any app, first step was to sign up with Kuvera Mutual Fund platform. Website or mobile app, process is same.
Since all my mutual fund folios are linked with my gmail id, I used sign up with Google option. I suggest you also follow same for convenient sign up.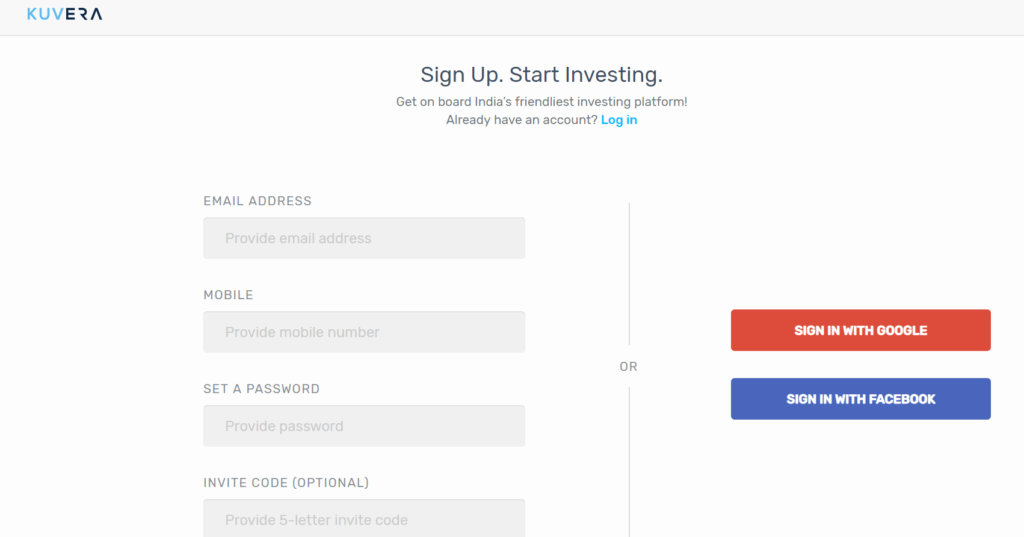 Since this is one time activity, You will need to carry out below steps:
Verify KYC – PAN, DOB, Mobile details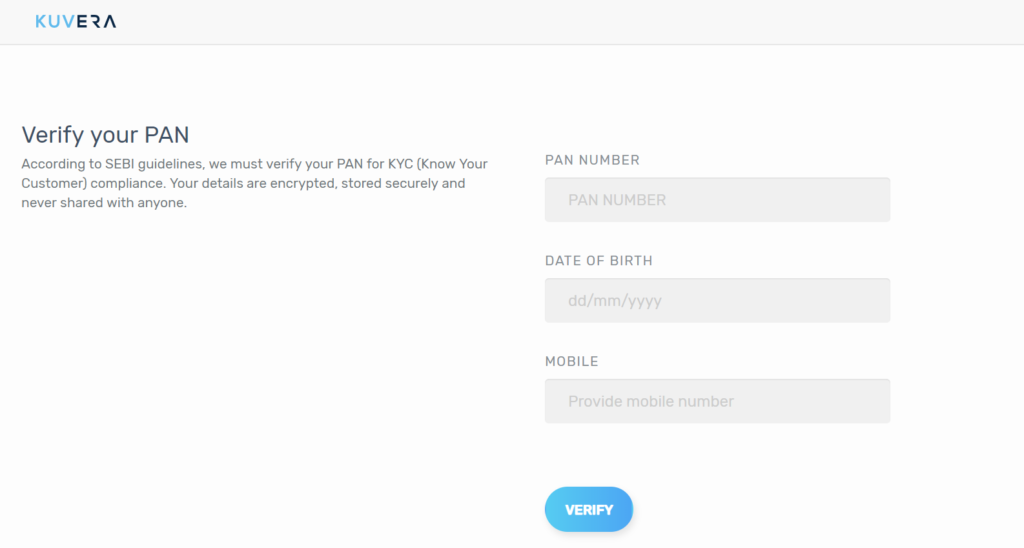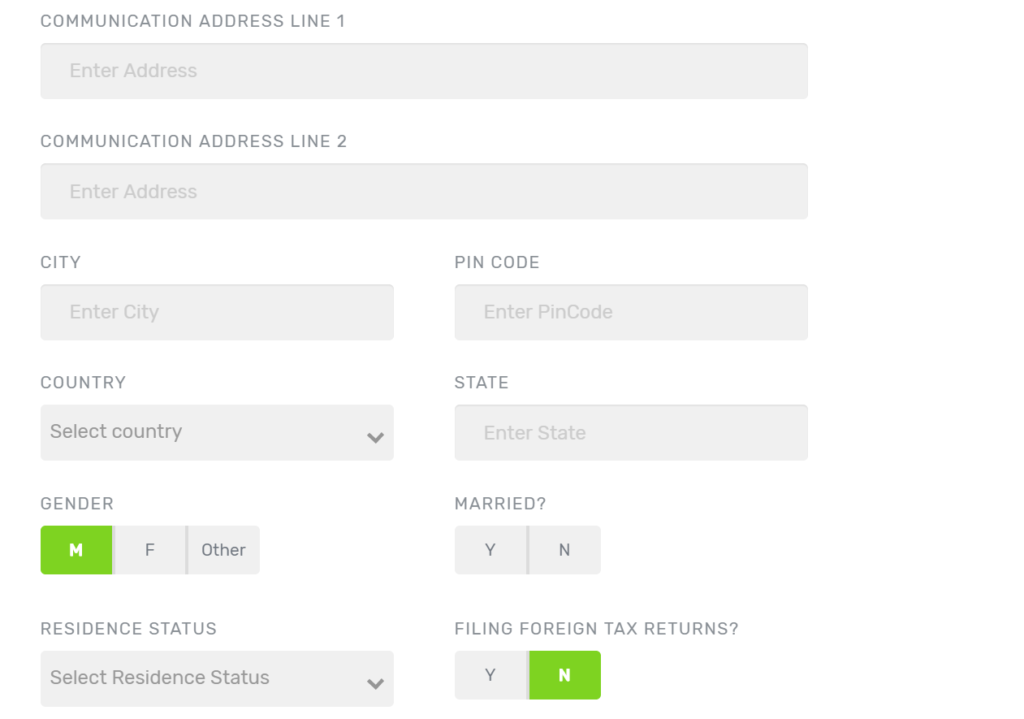 Provide soft signature on screen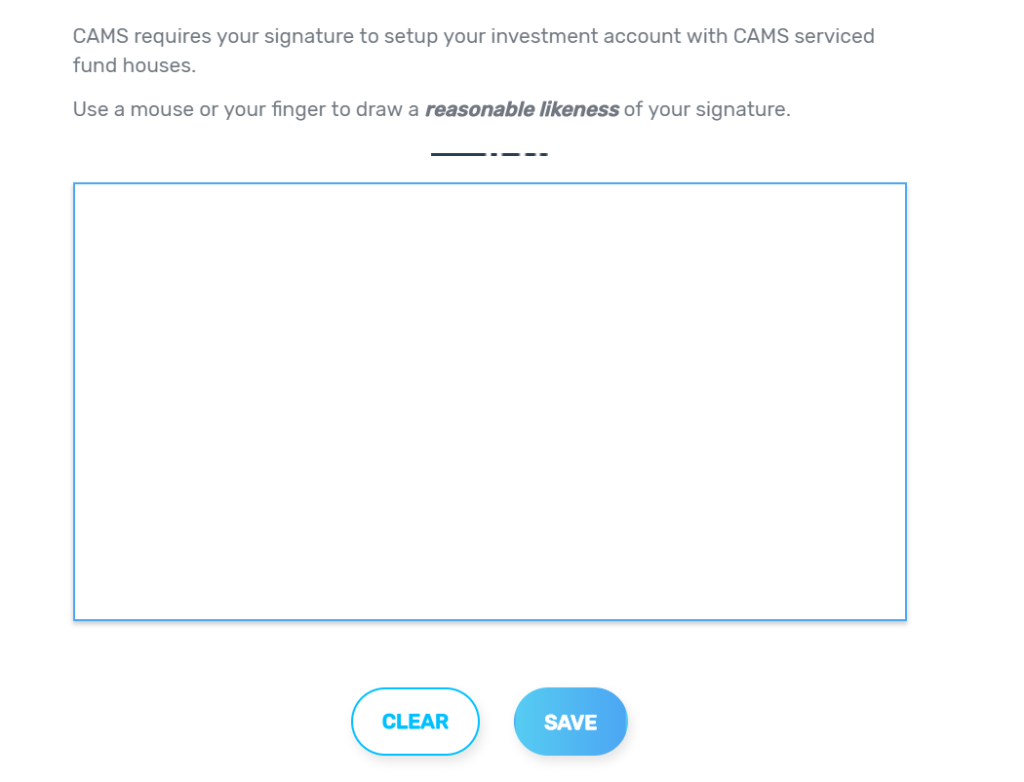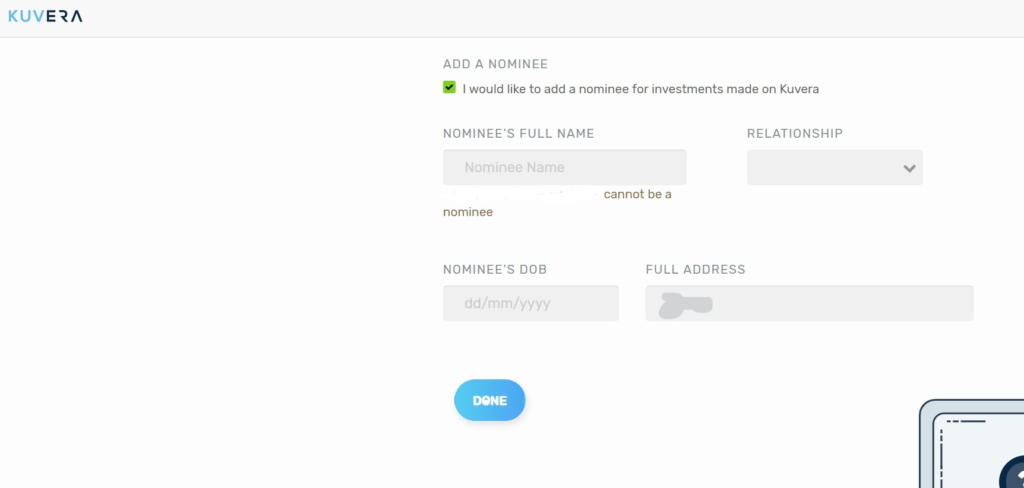 Overall it took less than 10 minutes and process was smooth and without any hiccups. IWhat I liked is flow of overall steps. It went in a logical sequence. So if you ask my rating for overall registration process its ***** 5 stars.
If you decide to sign up for Kuvera, please consider using my referral URL to support this blog.
Let's move on to next step…Portfolio
---
Importing your portfolio in Kuvera Platform
If you already have mutual fund investments, first thing for you is to get all existing investments imported in Kuvera Mutual Fund app. Just two steps – 1) request the consolidated statement as per their instructions and 2) email them or upload it in app. Done!Want to know more?
Here too I will give ***** (5 star) to the import process but I would have given same to other apps as well. Basically Kuvera is on par with its competitors.
---
Portfolio representation in Kuvera Mutual Fund App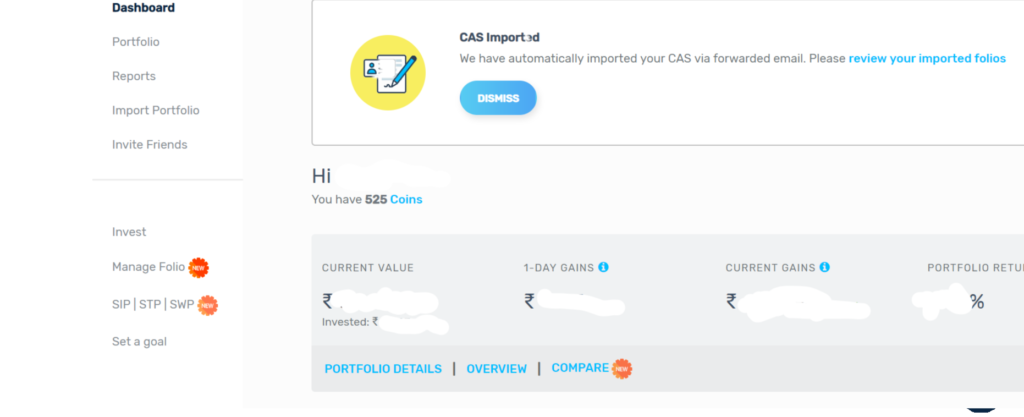 Every app has different way of representing your portfolio.
In Kuvera app, there are three things – Portfolio Details, Overview and Compare. Lets see each of them.a)
Portfolio Details
---
Overview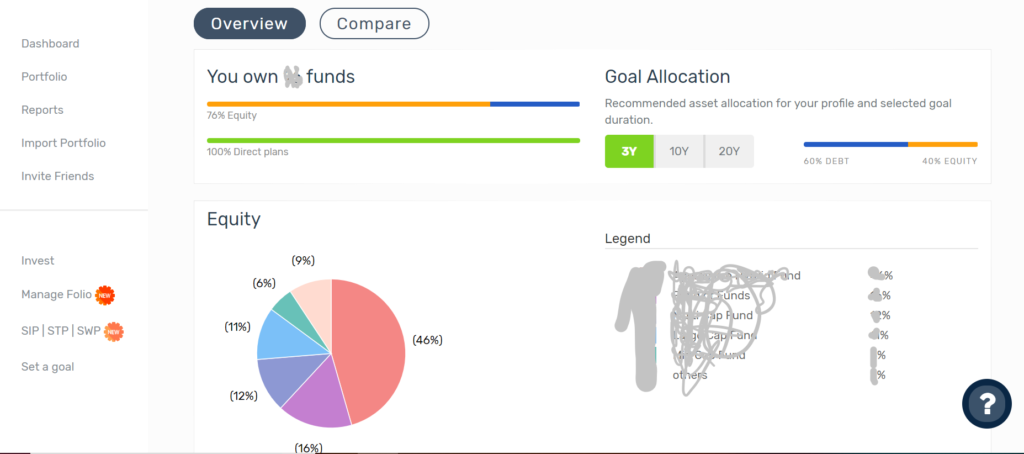 ---
---
Compare.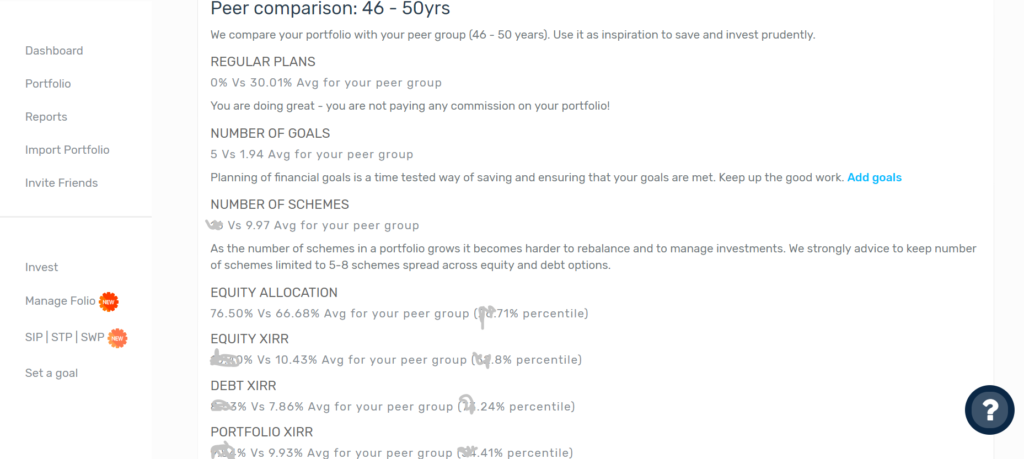 ---
Overall I am happy with the different views that Kuvera portfolio provides and insights are quiet useful. I would rate it overall ***** (4 star). One star less for portfolio details not mobile friendly. Hope they are reading and will address same.
---
Reports in Kuvera App
Again Kuvera hits the nail on head. What report would retail investor need ? Transaction history, Capital gains (short and long term) and ELSS investment proof. All three are available.
Good point is that Kuvera provides financial year wise reports for capital gain for last three financial years (even if you join now).
It has a very simple interface. Not many search / filter criteria but reports have details that add value. Worth signing up just to get these reports if you do not have a CA for tax calculation.
I rate **** (4 star) for reports.
---
Transaction Management
Kuvera offers all the transaction types to perform. You can select your fund and invest.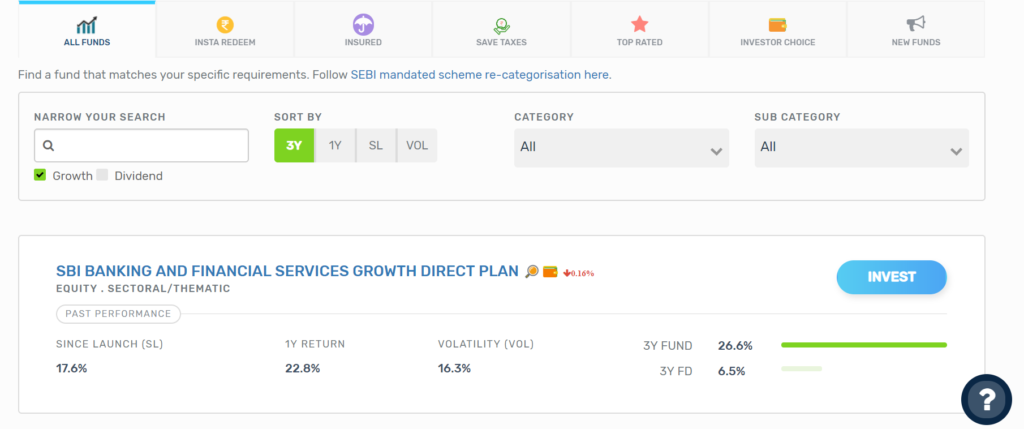 ---
You can also do SIP/ STP/ SWP very easily. In case you already have a folio in that fund house, it will list all of them to choose from, give option to select new or set particular folio as default.

---
It also has shopping cart type experience. In case you want to invest in more than one fund at a time, you can keep adding details and proceed to pay when choices are complete. Payment is possible via netbanking or NEFT or UPI.
I tried SIP and STP via Kuvera. Both work as a charm. Especially very happy for STP being able to do on weekly basis. I did not see such small duration in other apps.
---
Mutual Fund Selection
As you can see from below screen, one can choose from their top rated, our own choice, ELSS, funds with insurance, liquid funds which offer faster redemption or new funds. So overall most of the funds are available.
Starting SIP / SWP / STP is as straight forward as lump sum. You can quickly edit all of them like changing amount, stopping etc.
One caution though, you need to do edit around a week before SIP/SWP/STP date. When Corona crisis came, one of my client wanted to stop the SIP but he could not do so as next SIP was due in 2 days.
Kuvera? Are you reading? Please fix this. We are living in world of instant gratification. A week is too long.

Overall no complaints or lack of features for transaction management. So rating **** (4 star)
---
Is Kuvera Mutual Fund App Safe?
Hmm. I not authority to guarantee that. But what is good for you to know is money that we invest does not go to bank Kuvera account at all. Same with redemption. Money transaction happens between Fund house and investor. When I invest, money goes to Fund House and when I redeem, money directly comes to my bank account.
No Kuvera intermediate account. That gave me sense of comfort. If god forbid, something happens to Kuvera, my entire investment is with fund house. I can use any other app or directly redeem from fund house.
---
Customer Support of Kuvera Mutual Fund App
We are dealing with money here. So good customer support is a must. I had instance where one of my investment in L&T Hybrid fund got reversed. I had to work with L&T support and Kuvera support to get it sorted.
Experience was good. On next day of filing query, Kuvera responded with "Looking into" type mail and started investigation. If I remove delay from my side in providing bank statement etc, query was addressed in 3 days with few email exchanges.
They went to the extent of triggering my fund statement from L&T Mutual Fund and providing me with details. So it was good experience. I would give ****( 4 star).
Reason for one star less is that since its money matter, I would have been more happy if someone would have called me to understand issue and giving me assurance instead of just to and fro in mails.
Not all people are techy to always deal in emails. Human voice helps to calm people.
---
Things Kuvera Mutual Fund App should improve on
App Login time – At times it takes some time (5-7 seconds) to login into app and dashboard coming up. Some work here will give better user experience.
Goal Based recommendation is poor to say least about it. I could not find any logic of funds suggested to my goals.
They should avoid non investment features like filing IT returns.
---
Before we conclude, Note on other contenders
---
Conclusion
In conclusion, I would give the Kuvera platform a rating of 4 stars. The sign-up process is smooth, portfolio import is simple, and transacting is straightforward. The platform provides valuable insights into investments and offers useful reports. Additionally, it allows for efficient management of folios, including the ability to hide unused ones. Overall, the platform excels in its features and functionality.
Having tried multiple platforms, I have found Kuvera to be the best free direct mutual fund platform available in India. However, I would love to hear about your preferred app and if you believe it surpasses Kuvera.
As for any potential drawbacks, I have not noticed any patterns indicating hidden fees or indirect charges during my one and a half years of using the platform. While I am unsure about their revenue model or how they generate income, it does not concern me as long as I continue to have a positive and cost-free experience.
Personally, I consider Kuvera as my primary app for all my mutual fund investments. In my opinion, it is the best app for direct mutual fund investment. Of course, it is essential to conduct your own research before making a decision.
That concludes our review of the Kuvera app. If you are interested in mobile apps for investments, I encourage you to explore the other app reviews I have provided.
If you find my review helpful and decide to sign up for Kuvera, please consider using my referral URL to support this blog.
#directmutualfunds #mutualfunds #investments #investmentapp #bestinvestmentapp #directinvestment #investsmart #investwisely #investingtips #investmentgoals #investingmadeeasy #Kuvera #KuveraApp #KuveraAppReview
Hope this was helpful for you in some way. If you like the information, please subscribe to blog. This will help you get notified when a new article is written. It will also motivate me and keep me going. Also share blog within your network if you think it could benefit them.