Welcome to my comprehensive review of the INDMoney App – which they claim one-stop persona financial management solution. In today's fast-paced world, managing personal finances can be quite overwhelming. INDMoney App claims to simplify your financial journey with its array of innovative features. Whether you are a seasoned investor or a beginner looking to build a solid financial foundation, this review will delve into the app's offerings, usability, and overall performance, helping you make an informed decision about its suitability for your financial needs. Let's dive in and explore the world of INDMoney!
I downloaded app from Play Store and started trying it out. Even today, I am sticking to Kuvera as my primary Mutual Fund investment platform. But I am using INDMoney as my primary portfolio tracker app and sharing my reasons here.
---
What is INDMoney all about
This innovative app combines investments, loans, credit cards, expenses, and taxes under one umbrella, making it a strong contender for #SuperMoneyApp.
With such a promising concept, let's delve into its features and see if it lives up to the hype. Get ready to explore the power of financial management at your fingertips!
---
History of INDMoney
Personal Finance is just next to personal health. So we should care to check who is behind any application or scheme that we share our details with.
So who is INDMoney (#INDMoney) brain child of. Company behind this application is Finzoom Investments. It's founder is Mr. Ashish Kashyap.
For those who need his introduction, he is Founder & X-CEO of ibibo (Goibibo & redBus), India's leading online travel group. He also served as country head of Google India in past. So strong credentials.
---
Fees for INDMoney
You can use INDMoney for free and access many useful features. If you want their advisory services, you can upgrade to the paid version called IND Gold.
As a Certified Financial Planner myself, I didn't feel the need to upgrade. There are no telemarketing calls for upgrade, and I've been using the free version without any marketing.
The paid model's fees depend on your Asset Under Management (AUM) – the total of stocks, PMS, Mutual Funds, and AIFs in your portfolio. They will show you the fees in the app itself. For me, it's showing Rs 999/month plus GST, which I find a bit on the higher side.
The paid service includes a dedicated team of research analysts, tax consultants, customised investment proposals, advance tax filings and recommendations, risk monitoring of your portfolio, and monthly audits.
While the overall package seems good, I haven't tried it yet, so I can't comment. Harsh from shoutmetech has tried it and seems overall satisfied. For now, let's continue with my experience with the free services.
---
Portfolio Features of INDMoney
INDMoney offers one of the best portfolio trackers. Even if you use other apps for investments, I recommend trying this one to track your portfolio. It's rare to find an app that consolidates all financial products in one place. Whether it's stocks, PMS, mutual funds, bonds, Insurance, Loans or bank deposits, you'll find it all here.
Credit card Tracking – You can see all your credit cards automatically visible in app with outstanding dues. Very useful if you are person with multiple cards. You really don't need to manually add any, it fetches details from CIBIL based on PAN number.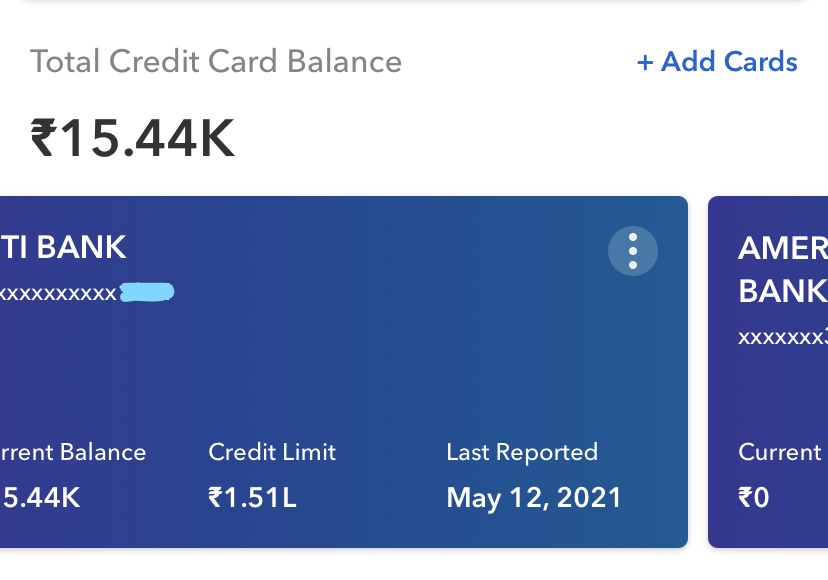 Credit score and Loan Tracking – You can track your outstanding loans as well. Again no need to manually add. Of course you can also any other loan manually. It also advises of any alternative loan which could be available cheaper.
Mutual Fund Tracking – Based on consolidated statement from CAMS or KARVY, it can quickly import portfolio and track it for you.
Stocks & Bonds in demat format – It allows you to connect to your stock broker and you can import it in your portfolio automatically. No manual data entry needed. Even US stocks can be tracked but you need to open a different account for same.
EPF – You can use your UAN number to connect to EPF and track your EPF balance here.
PMS – Now this is what I have not seen in other apps. INDMoney allows you to connect and track PMS as well.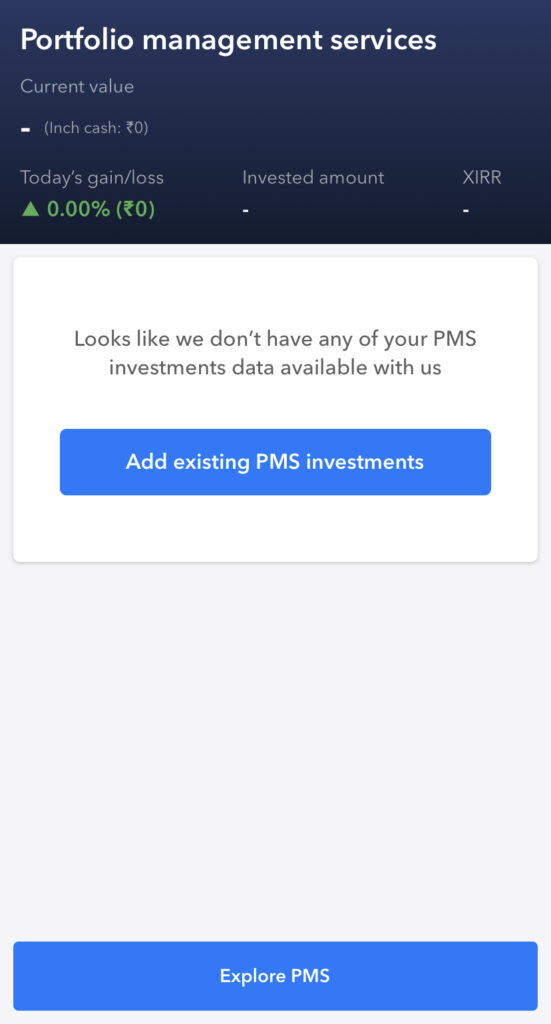 NPS – Again this was something unique, INDMoney is able to automatically track NPS balance from your gmail account (if you grant that access). So no need of manual entry.
Fixed deposits, Corporate deposits, PPF, real estate, AIFs can also be tracked but by manually entering information.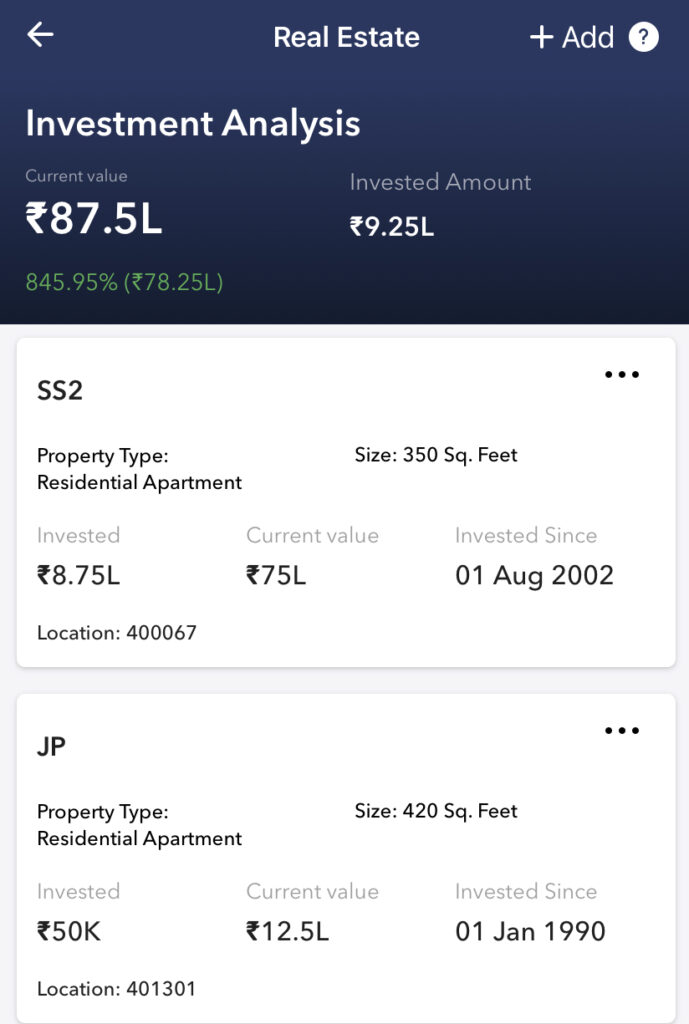 Insurance – It gives you insight of your current insurance details and recommendations of how much is needed.
If you allow read access to your SMS, it can start tracking your online expenses as well though I have not enabled it for now. I generally don't allow SMS access to apps to prevent OTP getting read. This is not just for INDMoney but for any apps.
Only option I did not find here was Gold. If you have physical gold investment, then you may need to add amount under some other section.

According to me, this is one of very detailed and useful dashboard I have seen. Even better than Kuvera app that I use as my primary app for mutual fund investment. Let us see what we can do with this app just as Portfolio Tracking App
If you drill down portfolio, you can get some interesting insights about your investments. I will try to cover them in full review but just to give a trailer, lets see few
---
Product Distribution
Quick and simple view of how your money is invested across various assets and your liabilities at one place. Having one comprehensive view will help investors see it in a consolidated manner.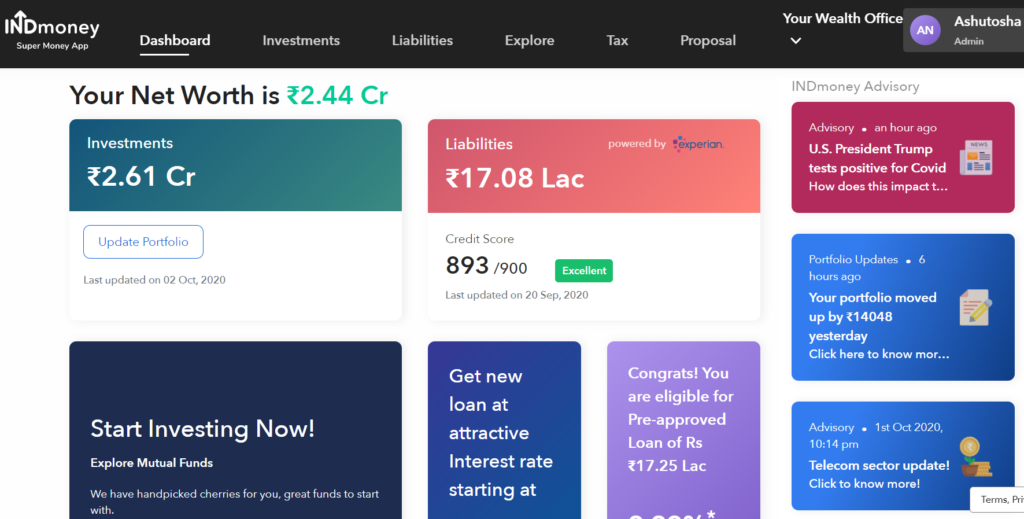 Asset Quality
You could see how your debt allocation is from credit quality perspective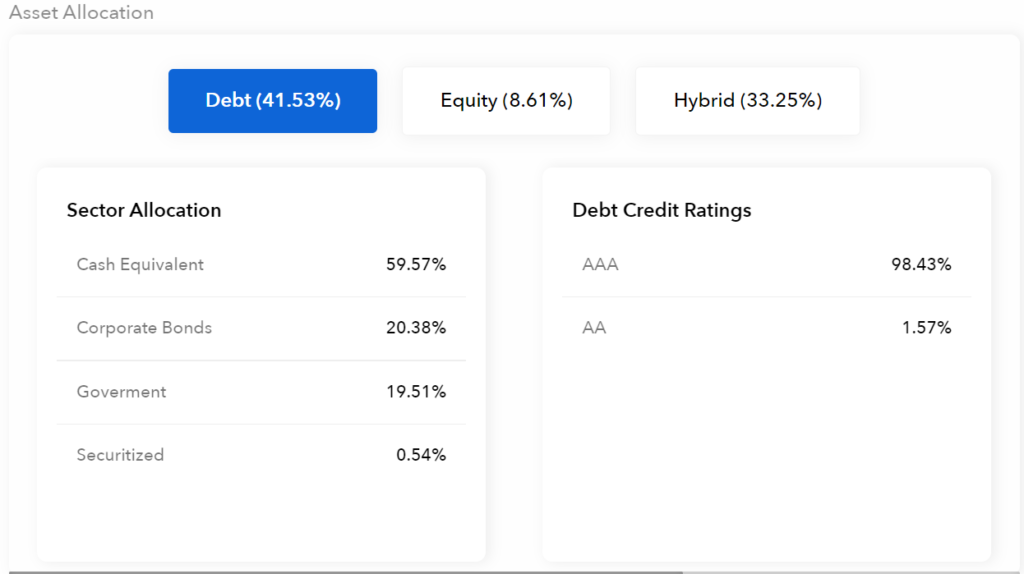 Portfolio performance against inflation
This is useful to show you reality. Is your investment style able to beat inflation or your are just about managing along. Good insight which will help you decide on your asset allocation.
You could see my XIRR last five year not great in last 5 years in absolute term but if you compare with inflation, it is not that bad.
Stocks in your portfolio
We invest across multiple mutual funds and many of the funds have some common stock but in different proportion. So its an interesting view to know your exposure across various mutual funds.
This is useful for deciding in investing in new fund especially when you are tempted to invest in a sectorial fund say Pharma fund or IT fund which are doing good currently. If you know what is your current exposure, then that can help you decide better.
There are many more insights but will cover them in full review later.
---
What else you get Free with INDMoney
Some of the features I found useful are listed below
Investing in direct plans of mutual funds
Once you are done with setup, you should be able to invest in direct plans of Mutual Funds from this application. I think other apps like Kuvera also allow you same. You can click on link and read my review.
Periodic review and recommendations
What sets INDMoney apart is its ability to analyze my investments and provide suggestions using robo-advisory software.
It periodically recommends switching funds and shows potential long-term benefits. While it's too early for me to confirm the accuracy of these recommendations, the app does offer an automatic portfolio assessment feature that keeps tabs on my investments.
Corporate FD – Investing made easy
For those investing in corporate FDs, INDMoney streamlines the process with no paperwork hassle. The app offers a simple click-to-invest feature in top corporate FDs with ongoing offers. It provides essential details like credit ratings and interest rates, enabling direct investments without intermediaries.
The platform includes a diverse range of FDs from companies like Bajaj Finance, HDFC, Mahindra Finance, LIC, ICICI, and PNB, among others.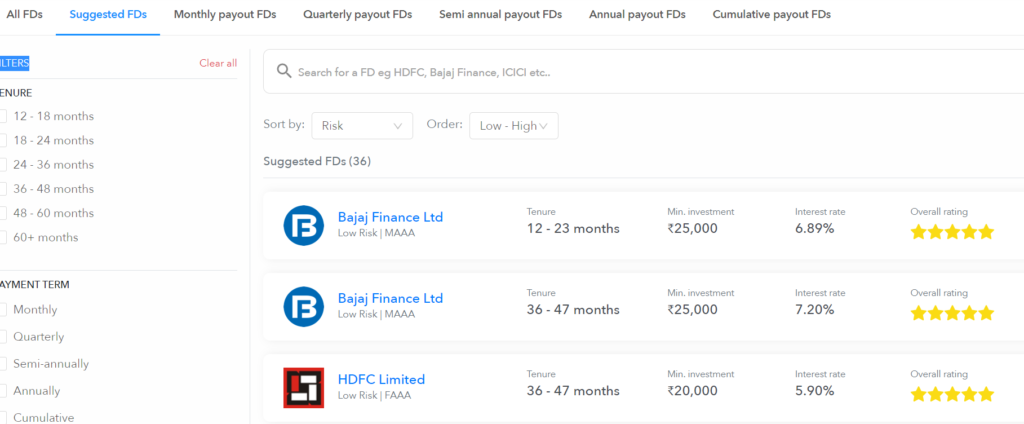 With filters for monthly, quarterly, and annual payout options, investors can tailor their choices to suit their preferences. For a more in-depth understanding of FD features, you can refer to a separate article available on this site.
Investing in Bonds
Gold bonds, RBI bonds, corporate bonds or even from banks or Public sectors. You name it and you will have it here.
PMS
This is interesting area. First time I could see multiple PMS schemes, their characteristics, returns etc at one place.
You can go through details and if you like one, you can click on Apply button for particular PMS. Someone from INDMoney will get in touch with you for next steps.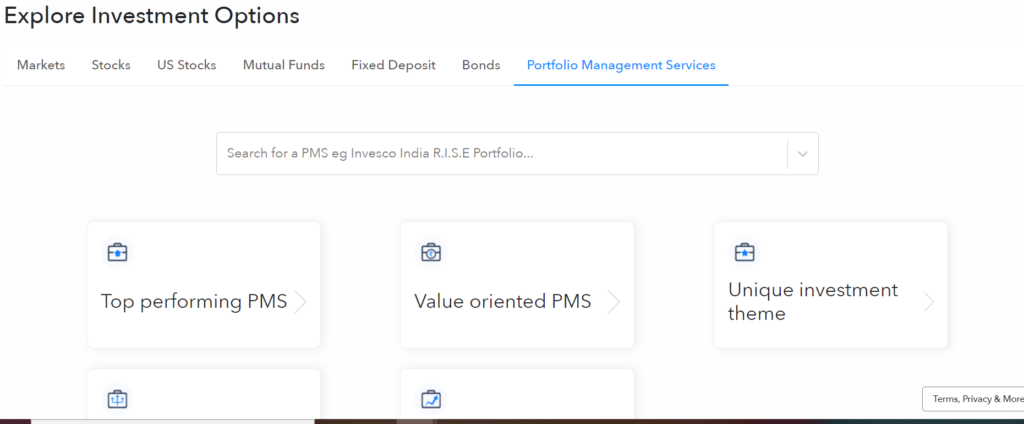 I clicked button accidently just for this review. 🙂 Let us see what unfolds.
Investing in US Stocks
It lets you open account quickly and online with Drivewealth if you wish to buy US stocks directly from India. I invest via International Mutual Fund so was not interested.

But if you want to buy Google, Apple or Facebook, you can do it here.
Market Valuation and recommendation
It provides analysis of various popular indices like BSE Sensex, Nifty 50, Next 50 so and so forth. At high level, it opines if valuation is cheap, expensive or fair. It will also provide its recommendations.
It also gives insights like FII, DII inflows / outflows into index stocks.
Within indices, it divides stocks in bullish, neutral and bearish groups and you can drill down further to individual stocks for analysis.
You also get regular sector , macro economics, stock recommendations, IPO analysis etc. If you directly invest in stocks, you could get useful insights for your research and analysis.
As with any other direct mutual fund investment app, INDMoney also has its recommended mutual funds. But unless you are going for paid service, I would suggest to sticking to your personal financial advisor.
You can compare 2 funds here as well.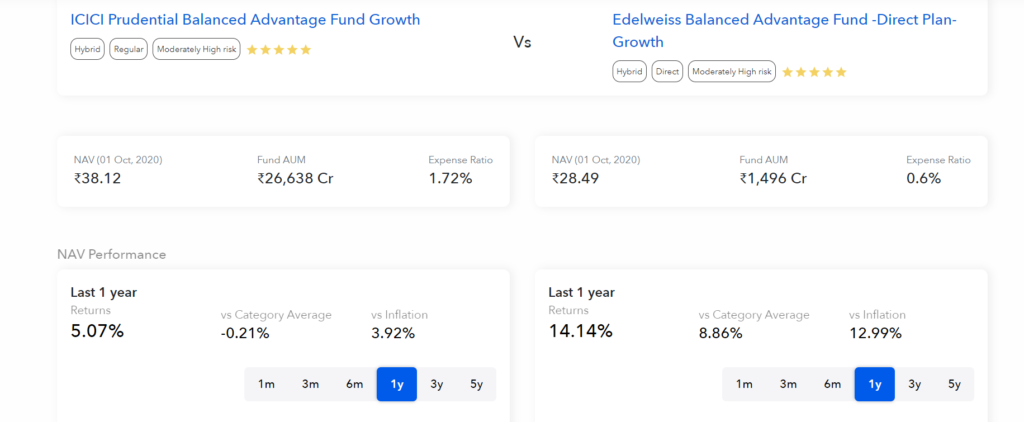 Reports
INDMoney gives you few reports some of them are
Holding report – Excel report for all your holding. Could be handy if you wish to print and file things for later reference
Performance report – Oroviding performance details of portfolio. Some times we get very excited bout our stock and mutual fund performance. This view gives a reality check. If investor has say larger allocation to real estate and debt (EPF, PFF, ect) then even if his or her equity portfolio gives great return, overall returns may not be good. Will help investor look and reconsider asset allocation.
Capital Gain & Loss report – Very useful report that gives mutual fund scheme wise transaction details in current year plus calculation of STCG and LTCG. It is excellent report that you can share with your CA for tax filing. I would say not for anything else but at least for this report, you should register in this app.

---
Conclusion
In conclusion, my review of the INDMoney app is positive, especially regarding its portfolio tracking capabilities. The app shows great potential, though customer service for free users may be a bit slow in responding to queries.
Nevertheless, I wholeheartedly recommend using it as a Portfolio Tracker, as it provides a comprehensive view of all your assets and liabilities in one place.
Give it a try and share your experience with others to explore the app's features and benefits. Happy investing!
---
Few updates as of 2nd Nov 2020
Mutual fund portfolio gets auto updated every month.
Got some useful alerts like below. Since I had moved lot of money in liquid funds during crisis period and it was there for long time, this alert gave me alert so at least investor can have a relook at particular investment.
Getting many not so useful alerts like below. Getting information on companies in your direct stock investment is good but if these are part of some of my mutual funds portfolio, it is of little practical use to investor.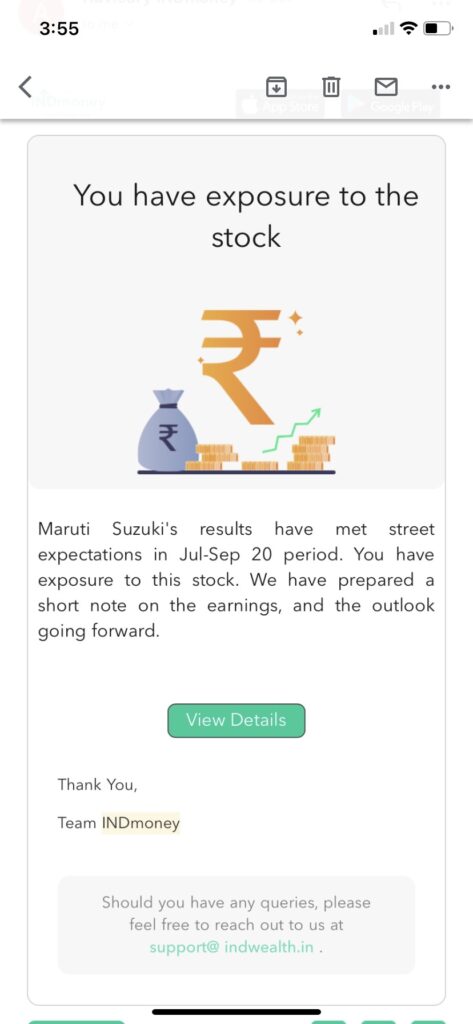 ---